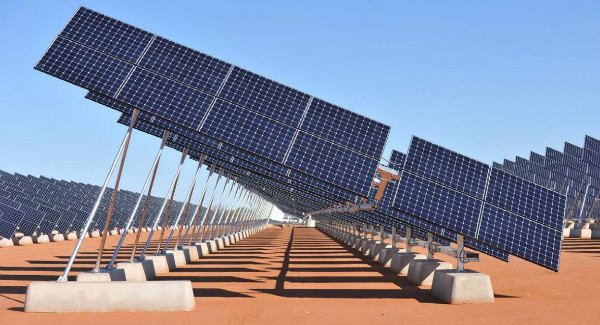 Territory Generation's renewable and alternative energy vision is:
"The majority of T-Gen's base-load electricity supply in each of its existing markets will be from renewable energy sources by 2030".
Base-load electricity supply is defined as being the provision of electricity under normal operating conditions to meet customer demand. It does not include the provision of back-up or contingency energy supply or the provision of ancillary services.
Achieving the vision
Based on high-level demand and supply analysis, the vision is feasible assuming suitable technology is available and commercially viable.
T-Gen has developed a road map to achieve the vision based on:
Developing capability and understanding of renewable technologies;
Trialling small-scale standalone and integrated renewables to develop technologies and assess opportunities;
Transferring the learnings to large-scale installations.
The vision could be achieved through a combination of replacement of existing plant when it reaches the end of its economic life, the addition of new plant to meet future peak demand requirements, and the potential substitution of existing plant where new technology is economically more efficient.
T-Gen is required to make commercial returns and its renewable energy strategy and subsequent implementation must meet these requirements.
Our customers are key stakeholders and they are seeking affordable electricity in the long run. We are operating in a competitive market and there are competitive pressures in all regions to ensure long-term prices are competitive.
The combination of being a commercial entity, providing affordable electricity to customers and the threat of new entry (due to cost competitiveness) collectively means that T-Gen must invest in renewable technology on a commercially sustainable basis.
T-Gen currently provides ancillary and contingency services that are not specifically compensated for. New technology (or a mix of existing and new technology) must reliably meet both peak and base-load demand with a provision for backup supply.
The opportunity
T-Gen is a government-owned corporation which employs more than 200 people.
The corporation owns and operates gas-fuelled power stations with diesel backup at Channel Island, Weddell, Katherine, Tennant Creek, Yulara, Kings Canyon, Alice Springs (Ron Goodin) and Owen Springs.
There are 55 generating units with a combined installed capacity of 580MW.
A significant proportion of T-Gen's existing generation portfolio will require replacement in the next 10-15 years.
This presents an opportunity to deploy new renewable technologies before the 2030 timeframe.
Current situation
Territory Generation is considering energy storage technology for installation at Alice Springs to assist with generation stabilisation and increase the capability for more solar PV penetration.
T-Gen is also investigating renewable energy options for Yulara, Kings Canyon, Tennant Creek and Katherine.
T-Gen continues to explore viable technological options for renewable energy generation and energy storage, with a view towards future installation in the Darwin region.
The current upgrade of Owen Springs and Tennant Creek Power Stations with new state-of-the-art gas engines is also contributing to emissions reductions of 15 per cent and 20 per cent respectively.
The Alice Springs Energy Storage Project involves implementing an energy storage solution to address a number of issues on the Alice Springs network.
A relatively large amount of thermal spinning reserve is required to counter solar intermittency and provide backup for other contingency events. This is inefficient, expensive and consumes fossil fuels.
Delivery of the project will enable greater solar PV penetration in Alice Springs.
Alice Springs has a highly variable load profile and a high penetration of solar PV on the network. Solar generation is at its peak mid-afternoon, which does not coincide with evening peak demand.
The intermittent nature of solar generation due to cloud cover causes ramping up and down of thermal plant, and sharp changes in load on the network can cause frequency instability, which can lead to load shedding.
The project seeks to establish 5MW storage capacity with options for nominal 20, 40 and 60 minutes storage.
For queries regarding Territory Generation and sustainability, please contact sustainability@territorygeneration.com.au