We were thrilled to see two of our talented Channel Island apprentices recognised at the 2021 National Association of Women in Construction (NAWIC) NT Awards for Excellence held on 6 August 2021.
Our congratulations go to Electrical Apprentice Kalina Price, who received the NAWIC Award for Achievement in Construction. Kalina and Mechanical Apprentice Elisha Wright were two of the three finalists for this award category, out of more than 300 entries.
Kalina is undertaking a Certificate III in Electrotechnology. As an apprentice electrician for the Electrical Maintenance team, her tasks include power station maintenance, fault finding and breakdown repairs. She is also Territory Generation's first female electrical apprentice to be signed and hosted at Channel Island Power Station.
"From changing my first light fitting after only three months on the job (under supervision!) to undertaking small projects, every day at Channel Island feels like an achievement in some way or another," Kalina says.
Elisha is undertaking a Certificate III in Engineering–Mechanical Trade at Charles Darwin University. She started her career by applying for the 'Prelude to The Future' Dual Apprenticeship Program in 2019 with GTNT Group. In 2020, she commenced a Certificate III in Automotive Diesel Technology and Certificate III in Electrical Fitting. She is also a mother to three young boys.
Elisha says she chose her industry for several reasons, but ultimately it came down to the passion for mechanics. "Both my father and grandfather were Diesel Mechanics, which meant I spent the majority of my time growing up watching my father fix anything he could. He had the drive and determination to do so, which I believe is a trait I have taken on".
Once again, well done to both Kalina and Elisha for this recognition of their skill and hard work.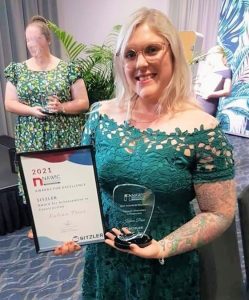 9 August 2021